Awnings are more than just accessories for your home that add to its curb appeal. Having an awning over your door goes a long way in protecting your entryway from inclement weather such as snow or rain, as well as providing you with shade in sunny locations.
There are many different styles and materials to choose from when installing door awnings for your home. Depending on the architecture of your abode along with the type of door you have, there is a vast array of materials available, and as such there could be several options available to you. To gain insight and style ideas for your home awning needs continue reading below.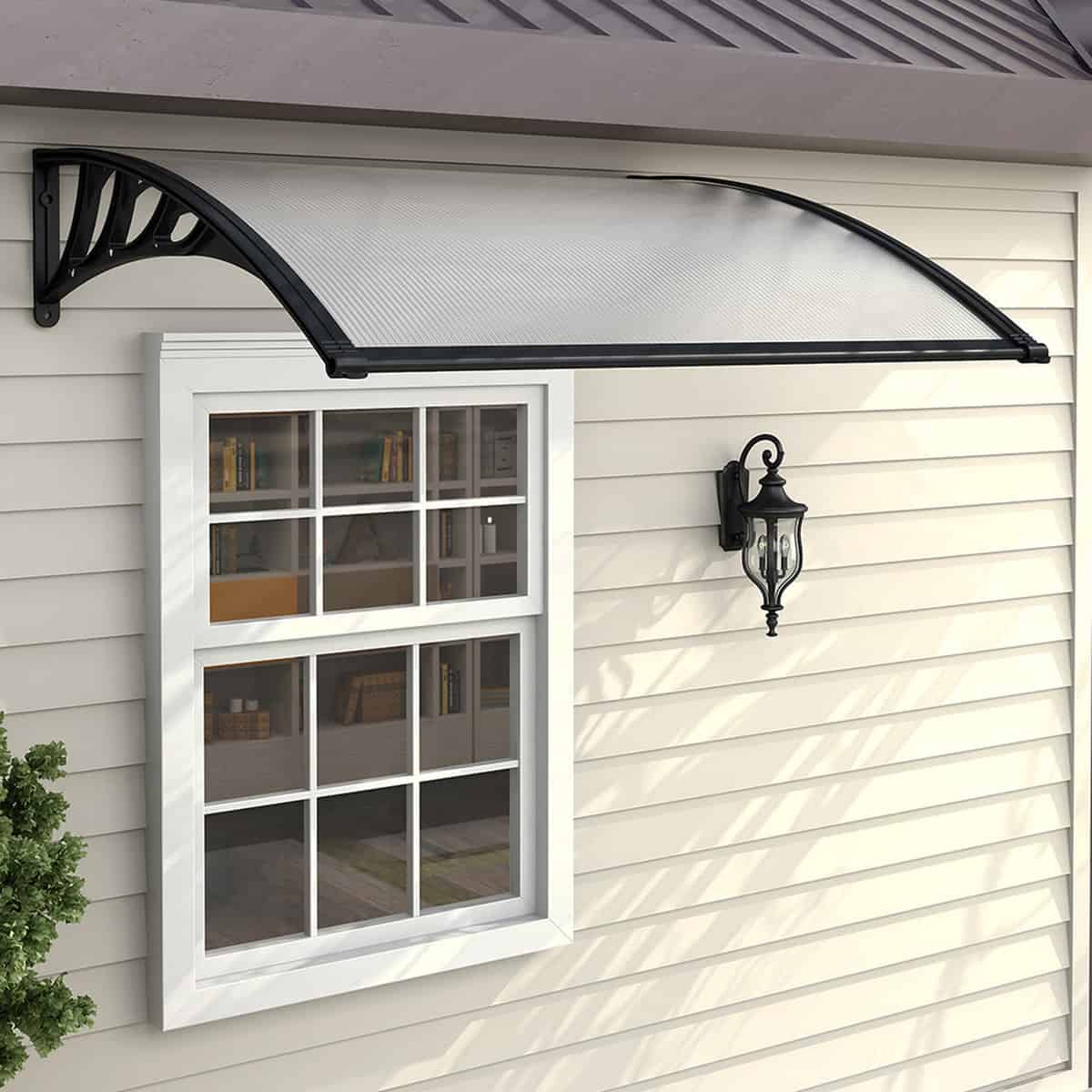 1. Canvas Door Awnings
Canvas awnings are an excellent choice for fabric that holds up well to the sun and other environmental factors. Canvas made from natural cotton fibers are not only cost-effective and affordable, but are great for improving the look and feel of your property. By installing natural cotton canvas awnings over your doors, you will be increasing the value of your home with a style that will last for years. Canvas comes in a large variety of colors and patterns – giving your home a custom look that can't be beat. As an added bonus, cotton is both breathable and washable for easy care.
When your awnings begin to appear dirty or dingy in color, you can simply brush any debris loose from the surface and use a mild detergent to give them a good scrub with a soft brush and rinse clean with your hose. If at any point you struggle while cleaning, feel free to remove the awning for professional cleaning. You can even put the canvas in the washing machine. There are also products on the market that you can spray on your awning after it dries to help protect it in the future against mold and mildew. Search for door awnings available near me online for further information.
2. Polyester Door Awnings
Much like cotton canvas awnings, polyester awnings are also a popular and low-maintenance choice for home door awnings. Along with being a breathable material that provides comfort in hot, humid conditions, polyester awnings hold up well to sun damage and fading. Polyester is also fairly easy to clean.
Again, cleaning an accumulation of dirt or mildew off of your polyester awnings will follow along the same lines as cleaning canvas awnings. Using a mild detergent, even dish soap with a soft rag or brush to scrub away any unsightly grime will get the job done. As always safety first, so remove the awning if it is a struggle and return to position after cleaning. Don't forget a protective coating after drying in the sun to ward off any problems in the future against mildew.
3. Retractable Door Awnings
If you live in an area where you are regularly subjected to high winds, a retractable door awning could be of interest to you. Having a retractable awning means that when the gusts come along, you simply roll it up tight against the house above your door and wait for the storm to pass. You won't have to worry about your awnings being ripped away during high winds. A retractable awning in this case could alleviate safety issues. Retractable awnings come in both manual and automatic models.
4. Metal Door Awnings
These beautiful awnings can take the weather in stride, while protecting you and your door for many seasons with just basic care. They're prized for their artistic flair and are typically made of rigid materials such as copper or aluminum. These awnings are installed to stay put as they are highly durable with support arms that are functional, as well as decorative – often even featuring scrollwork.
One such awning is known as the eyebrow awning for its rounded curve that sits just above the door frame with metal arms extending on either side of the door holding it in place. The eyebrow awning made from metal materials lends an air of sophistication to your home with its classic style.
Sometimes referred to as an overdoor canopy, these awnings are more structural than the other types of awnings in that they appear to be part of the building and blend into the roofing materials. They are a more permanent fixture and capable of withstanding the elements. An overdoor canopy may also have columns or supports forming a natural porch-like structure to protect you from the elements.
5. Polycarbonate Door Awnings
Polycarbonate door awnings are a good way to keep rough weather conditions at bay while entering your building while still maintaining a functional yet decorative appearance. By and large, polycarbonate awnings are installed with metal hardware and hung much like shelving with brackets on each end. The awnings can even have built-in rain channels to funnel the water away from you in the rain. These awnings are easy to care for with an occasional hosing to keep them clean.
Awnings made of polycarbonate come in many shapes and forms with both curved and flat panel construction depending on the aesthetic you are looking for. If you happen to live in a shady or overcast area polycarbonate lets the light shine through its glass-like construction for better visibility. With a range of designs and styles, there is something for almost everyone in polycarbonate awnings.
Choose Door Awnings That Are Both Functional and Stylish
There are many benefits of installing awnings on your home, and whether you decide to install permanent or retractable awnings – there are a multitude of styles, designs, and materials to choose from. Not only will your home's door awnings protect you from the UV rays of the sun and stormy weather, but you'll also potentially save money in the form of reduced energy bills, with your door being shaded from the sun.
Create interest and instantly up your curb appeal by adding functional and stylish door awnings to your home. For more information on and inspiration on door awnings for your home search online for "door awnings" to get started today.
Disclaimer None of the manufacturers listed in this post paid to promote their products on Door Digest. This is strictly an independent review. Some links on this page are affiliate links which means that, if you choose to make a purchase, I may earn a small commission at no extra cost to you. We greatly appreciate your support!